MPEG4 Direct Maker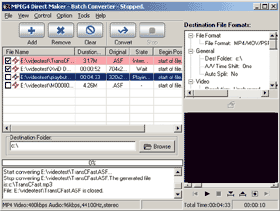 Download it(5.5M) mirror 1 mirror 2
Features:
Directly convert VCD/DVD/QuickTime/AVI/WMV/MPEG1/ASF/RM/RealVideo to divx/wmv/avi/mpg1/ mpeg2/vcd/dvd/mp4/mov/3gp/mp3/h.264/avc
DVD player.
Audio/Video player.
Simple and useful playlist.
Automatically convert multiple files.
Customise divx/wmv format.
Automatically generate the destination file names according to your system time.
WinVDR PRO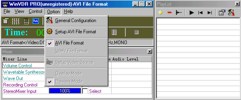 Download it(2.6M) mirror 1 mirror 2
Features:
Run as a Real-Time Video Capturing Recorder, Directly Recording to Divx/AVI/WMV/MPG(VCD/DVD)/MP4/MOV Format .
Use cubic filter for every frame of video stream, video quality highly improved.
Use 'dynamic A/V synchronisation' technology to avoid A/V asynchronous. Long-time video capturing will not break A/V synchronisation.
Be able to align Audio Time and Video Time.
Auto prevent screensaver, power manager from running when capturing.
Auto generate file name per system time.
Include a Simple and Useful Playlist manager
Long-Time Recorder (limited by your hard disk)
Pause Function.
Audio Level Monitor.
Simple Scheduler
WinADR(MP3 Recorder)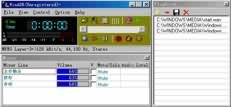 Download it(1.3M) mirror 1 mirrior 2

Features:
Real-Time Recorder,Directly Record to MP3/WMA/WAV Audio Format .
Product wav file w/ various Audio Formats.
Pause Function.
Recording Time Limitation Feature.
Simple and Useful Playlist.
Useful Audio Mixer included.
Long-Time Recorder(limited by your hard disk)
Audio Level Monitor.
Audio Level Tester.
Scheduled Recording.